The Field School application deadline has been extended until February 10! Download the application or contact dforan@wlu.ca for more information!!
Couldn't attend Dig Night? Just download the presentation!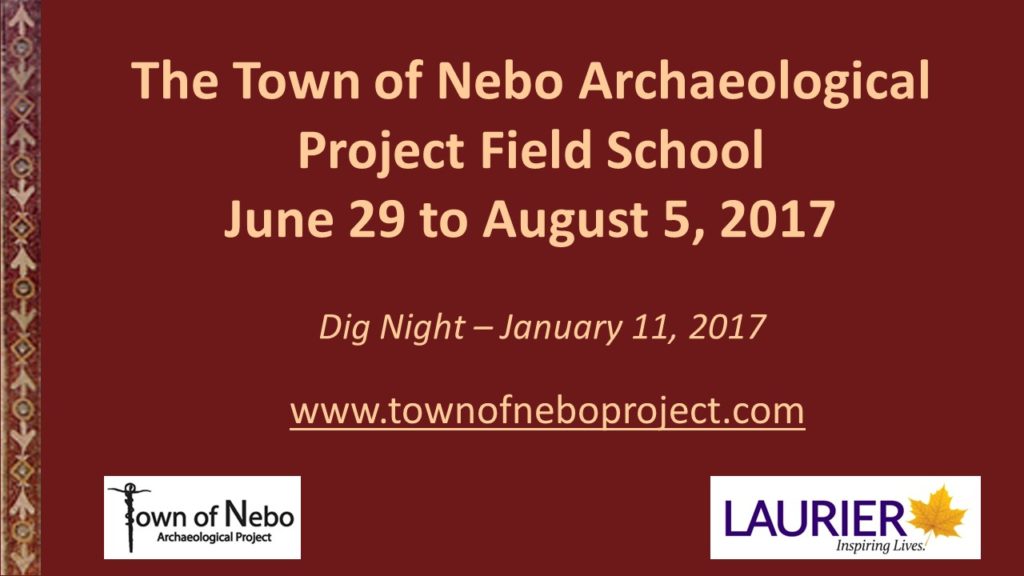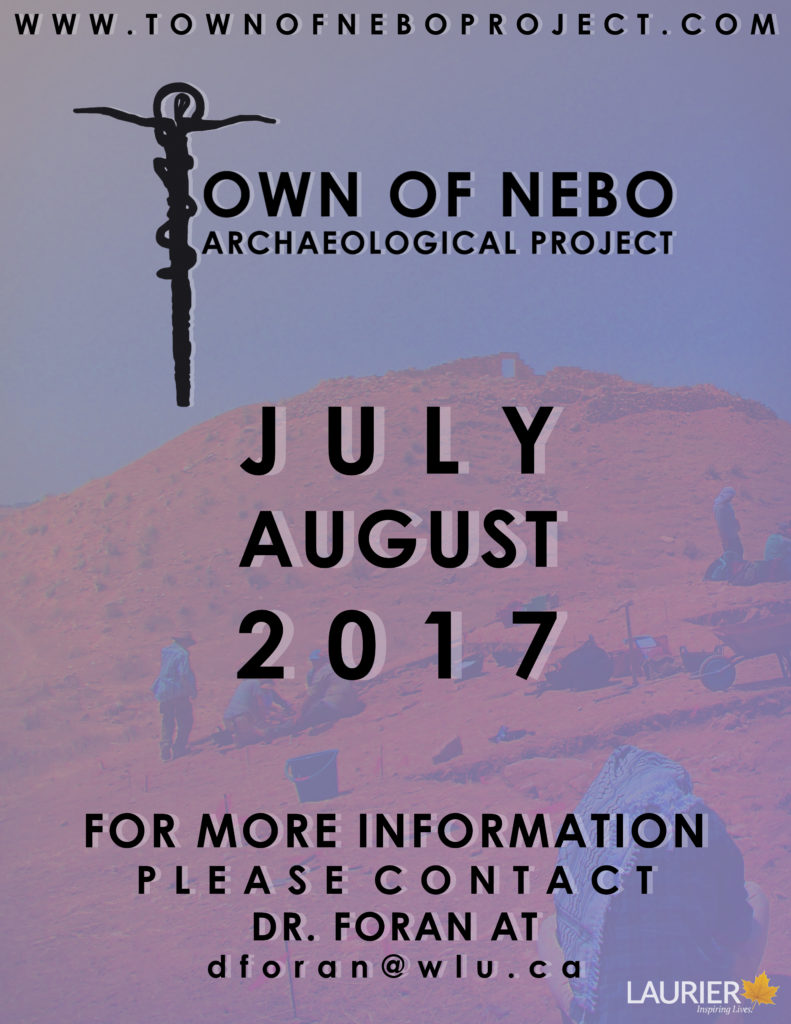 Town of Nebo Archaeological Project Field School
June 29 to August 5, 2017 (6 weeks)
Students will participate in the Khirbat al-Mukhayyat Archaeological Project, a multidisciplinary research project investigating the importance of trade, religion, and landscape for ancient societies.  This will be the first full season of excavation at the site.  Students will have the opportunity to be involved with an archaeological project at its inception.
Project Description
Khirbat al-Mukhayyat is located 9 km northwest of the city of Madaba (which is where students and staff will be residing).  The site consists of a small acropolis and a lower town that extends to the north and south.  Three Byzantine churches, dating to the 6th century, have been excavated at the site, indicating the presence of a prosperous community here in Late Antiquity.  Previous survey work at the site has also revealed the presence of a substantial Iron Age (9th-8th century BCE) settlement.  The Khirbat al-Mukhayyat Archaeological Project is committed to not only uncovering the occupational history of the site but also to situate the ancient town within the larger economic and religious framework of this region.  An extensive study of the landscape surrounding Khirbat al-Mukhayyat will be undertaken in order to pursue these broader research objectives.
Course Information – AR219* Introduction to Field Archaeology
This course is designed as a general practicum in archaeological field methods. As a field course, emphasis will be placed on active participation in the ongoing research of the Khirbat al-Mukhayyat Archaeological Project in Jordan. Students will take part in the educational program of the expedition, including its orientation program, lectures, seminars and field trips, and will gain practical experience of the basics of field technique and interpretive method.
Prerequisites: none                    Exclusions: AR306*
The work week will run from Sunday through Thursday, with Saturdays devoted to field trips. There will be a 3-day mid-season break. The daily work schedule will run roughly as follows:
4:30 a.m.         wake up
5:00                 first breakfast
5:15                 bus departs for site
5:30                 work commences on site
9:00                 second breakfast
12:30 p.m.       quit work on site
12:45               bus departs for dig house
1:30                 lunch (main meal of the day)
2:00                 quiet/free time
4:00                 lab and notebook (recording) work
6:00                 supper
Field Trips: The program will include field trips to prominent sites in Jordan such as Amman, Jerash, Wadi Rum, and Petra, as well as museums, castles, fortresses, and ancient ruins in the Madaba area, along the ancient King's Highway, and in the Eastern Desert.
Equipment: While equipment will be provided, each student must bring their own trowel (preferably 5" blade; Marshalltowns are the choice for most archaeologists) and a pair of gloves.
Weather, Attire, and Health
From June to August, Jordan is hot and dry in the day with highs of 30 degrees Celsius or more. The nights are considerably cooler. Field archaeology students must be in excellent health and willing to work in sometimes difficult conditions, including hot weather and long, physically-demanding days. If you are under medical care of any kind, you are advised to consult with a physician before going to Jordan. All health concerns should be discussed with the Project Director prior to submitting your application form.
Since the group will be living and working in a rural Middle Eastern town, sensitivity to traditional standards of dress and decorum will be very important. As guests of the local community, program participants will be constantly observed, and therefore must be mindful of their attire and behaviour. Students should plan to bring clothing that covers arms and legs (especially women), including digging attire (light fabrics, such as cotton, are best), and durable, yet pliable, outdoor footwear.
Accommodations and Meals
Students participating in the field school will reside together with the project staff in dormitory-style living arrangements. Students should bring their own toiletries. Electrical current runs at 220 volts and outlets are rare, so appliances such as blow dryers, curling irons and electric shavers will be of limited use. Students will have access to hand-washing laundry facilities. Food for all meals will be provided. Second breakfast is offered on-site each morning as well as a prepared lunch when the site work is finished for the day; students are responsible for first breakfast and supper but may prepare these meals using the well-stocked kitchens available. Vegan diets cannot be accommodated.
Flights
Students must make their own travel arrangements and ensure that they arrive and depart from Amman International Airport on the specified dates. Flight suggestions will be provided to participants.
Entry Requirements for Visitors to Jordan
All students are responsible for making sure that their necessary travel documents are in order. Information on entry requirements to Jordan is available from their Embassy in Ottawa: 100 Bronson Avenue, Suite 701, Ottawa, K1R 6G8, ph: 613-238-8090, fax: 613-232-3341, email: ottawa-consular@fm.gov.jo, web: www.embassyofjordan.ca.
Canadian citizens need a Tourist Visa and a passport valid for six months beyond their return date to enter Jordan as a visitor. Visas can be obtained at the airport upon arrival in Jordan or from the Embassy in Ottawa less than three months before departure (by writing to the email address above). If purchasing the visa from the embassy in Ottawa, please note that the visa is valid for one month from the issue date.  Citizens of other countries may have different requirements.
Important: All participants are required to submit a completed Security Form.  Please note that this Security Form requires students to have a valid passport. Once notice of admission has been received, students will have to submit a Security Form and a signed Medical Clearance Form.
Pre-Departure Orientation (PDO)
All students admitted to the Jordan field course are required to attend a pre-departure orientation that will be held in April 2017.  Students will receive specific health and safety information, a course syllabus, student information booklet, and detailed program information (e.g. about accommodations, services, facilities, and travel instructions to and from the airport).  Attendance at this PDO is mandatory for all participants in the Jordan field school.
Costs of the Jordan Field School
A breakdown of the approximate program costs is outlined below.  All prices are in Canadian dollars.  The Field School Fee covers room and board including weekends, transportation to and from any official project activity, equipment, supplies, instruction in excavation techniques, and weekend field trips.
The Application Fee must accompany the completed Application Form and be submitted on or before February 1, 2017.  Payment of the Field School Fee and submission of the Medical Clearance Form will be made at a later date.  Payments can be made to Faith McCord (in person: R106P – 202 Regina St.; by mail: Department of Archaeology and Classical Studies, Wilfrid Laurier University, 75 University Ave W, Waterloo, ON, N2L 3C5).
Mandatory Costs Paid to WLU
| | |
| --- | --- |
| Application Fee | $100 |
| Course Fee | $1400* |
| Incidental Fees | $90* |
| Field School Fee | $3600 |
| Subtotal | $5190* |
Other/Estimated Costs
| | |
| --- | --- |
| | |
| Airfare | $1400* |
| Single Entry Visa for Jordan | $80 |
| Medical Travel Insurance | Variable |
| Miscellaneous Expenses | Variable |
| Subtotal |  $1480 |
*Estimated costs
Approximate Total Program Cost:   $6670 (this figure does not include the cost of mandatory medical travel insurance and other miscellaneous expenses such as spending money while in Jordan)
Payment and Submission Deadlines:
| | |
| --- | --- |
| Application Form and Fee | February 1, 2017 |
| Medical Clearance Form and Field School Fee |  April 1, 2017 |
Financial Assistance
There are several funding opportunities for students wishing to participate in the Jordan field school.  Please see the links below for more information.  Please note the deadline for each fellowship.  If you require a letter from the project director, you can email Dr. Foran at dforan@wlu.ca.
Fellowship Links:
American Center for Oriental Research (ACOR)
American Schools of Oriental Research (ASOR)
Archaeological Institute of America (AIA)
American Schools of Oriental Research in Canada (CASOR)